Thank You,
Hendricks County!
I wanted to take this opportunity to thank those who supported me as well as the entire Sadler for Sheriff team over the past year and a half. Receiving the nomination for Hendricks County Sheriff is a great honor. With the general election still to come, I would appreciate everyone's continued support. Though I am excited to be one step closer to serving every citizen of this amazing county as your Sheriff, we are not done yet!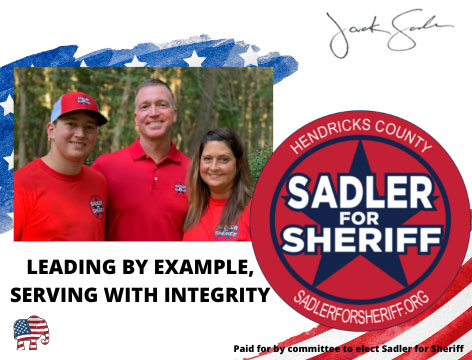 Vote Jack Sadler for
Hendricks County Sheriff.
My commitment is to Hendricks County.
Let's be honest, folks, today law enforcement faces challenges that are different from what they were 15, or even five years ago and this is certainly true for your next Hendricks County Sheriff. Our officers are tasked to decipher a situation, determine what is legal or illegal, and sort it all out. It is our responsibility to do what is right, fair, and necessary while protecting the rights of every individual under the law and constitution. Law enforcement officers encounter people on what may be one of their worst days. The outcome seldom makes everyone happy. However, officers acting with intention, compassion, and humility demonstrate that Hendricks County police officers are exceptional. 
Join these amazing community members and friends in supporting, and voting for, Republican Sheriff candidate Jack Sadler.
Tyrone Brown
Indiana Lyons Co-owner, CEO
Brett Clark
Hendricks County Sheriff
Antron Brown
Team Owner of AB Motorsports & 3-Time NHRA Top Fuel Champion
Dennis Dawes
Hendricks County Commissioner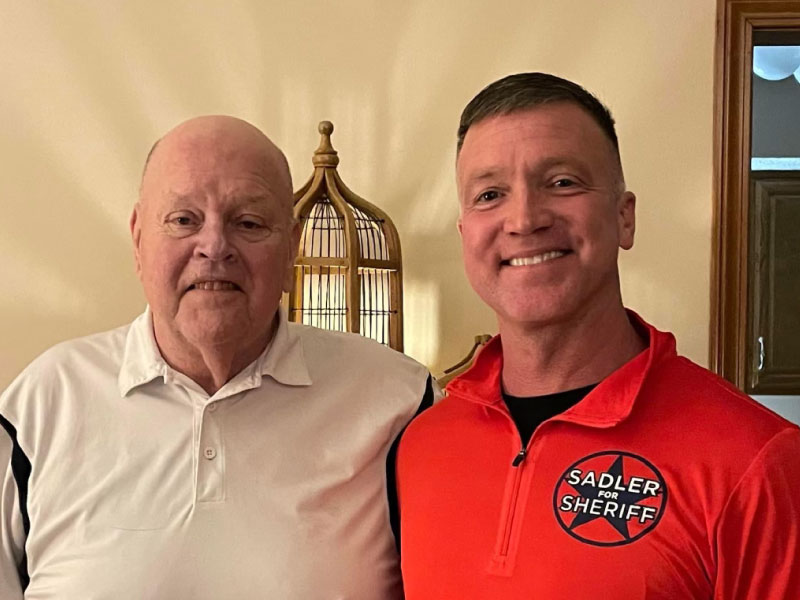 Rick Morphew
Hendricks County Coroner
Hendricks County is Unique
Here in Hendricks County, deputies serve the community every day using their minds, mouths, and ears to get things done lessening the use of force.  Deputies' actions encourage everyone to see each other as human beings; mothers, fathers, sons, daughters, brothers, sisters, or neighbors and treat each other accordingly with respect.
In the last seven years as uniform enforcement commander, I have been an active and vocal participant in the leadership of the Hendricks County Sheriff's Department. Effective training in de-escalation and crisis intervention along with employee mental health assistance programs are examples of the positive agenda in the Department. As the next Hendricks County Sheriff, I will continue this constructive direction and build on it. 
Because of my place in the current Sheriff's Office the transition to a new administration can be seamless. I understand the needs of the community and have the background, skills, and knowledge to meet those needs.
Leadership starts at the top. The right people with the right leader leading us in the right direction is essential. I truly believe that my career in law enforcement and my commitment to protect and serve the residents in Hendricks County is my calling in life. I have intentionally dedicated my career to learn and prepare myself to be the next Sheriff of Hendricks County. 
As a committed servant leader working for you, my goals are to:
Ensure your constitutional rights and freedoms are protected
Employ best practices to improve efforts with the growing mental health crisis
Continue to fight against the heroin and opioid epidemic with both patrol and investigation efforts
Provide opportunities for prevention and post-addiction education
Improve upon our community policing efforts to include citizens firearms trainings with our team of certified instructors
My work is in Hendricks County
Besides being physically and mentally fit and healthy, my belief is that strong law enforcement officers are well-rounded. My goal as a law enforcement professional has always been to build expertise in all aspects of law enforcement and leadership to understand the ins and outs of community law enforcement.
Jack Sadler is a proven leader with more than 25 years of Law Enforcement experience
I graduated with honors from the Indiana Law Enforcement Academy in 1997. I joined the Vincennes City Police Department as a patrolman. During the three years there, I assumed roles as a school resource officer, a DARE instructor, and a Drug Task Force member.
In 1999 I achieved my goal of returning to serve in the Hendricks County Sheriff's Department. Since then, I have held many different leadership roles:
Merit Deputy and Sergeant
Field Training Officer
Emergency Response Team Member and Team Leader
DARE Instructor
Detective
Interstate Criminal Interdiction
Firearms Instructor
United Drug Task Force member and Supervisor
Captain assigned as the Uniform Division Commander
I have had the opportunity for intensive leadership training across the nation:
Homeland Leadership Academy Graduate
HSLA Class #2, 2016
Leadership Hendricks County
Class of 2019
Federal Bureau of Investigations National Academy
Session #279, 2020
National Command & Staff College, MAGNUS Leadership 2021
Global Leadership Summit 2021
Whenever an opportunity for growth presents itself in the department or for additional training, I have always raised my hand. Over the last two decades I have accumulated the knowledge, skills, and experience to know at the end of every day I have earned my paycheck and done my best for our community.
I am now ready to roll up my sleeves and get to work as Sheriff of Hendricks County.
My life is Hendricks County
The most important things to me are all in Hendricks County: my family, my work, and my community. It is where my family has grown roots and strong relationships. It has been home to me for almost my entire life and I have a profound respect for the responsibilities entrusted to the Hendricks County Sheriff.
My wife Casey and I made the decision that this is where we wanted our son Carson to grow up. We love the close-knit feeling of small-town living. We have been members of the Danville Christian Church for many years. The kindness and generosity of people here never fails to touch us and illuminate how blessed we are to live here.
Living here it is almost instinctive to develop and act with a servant's heart. Service is important but serving the Hendricks County community is our passion. For us, it is important to give back by devoting our personal and professional energy to make Hendricks County a safe, healthy, and enjoyable environment. Casey is a speech pathologist in the Plainfield schools, I am a law enforcement officer, and Carson is in school working to return home to the county where he hopes to pursue his dream of being a fireman.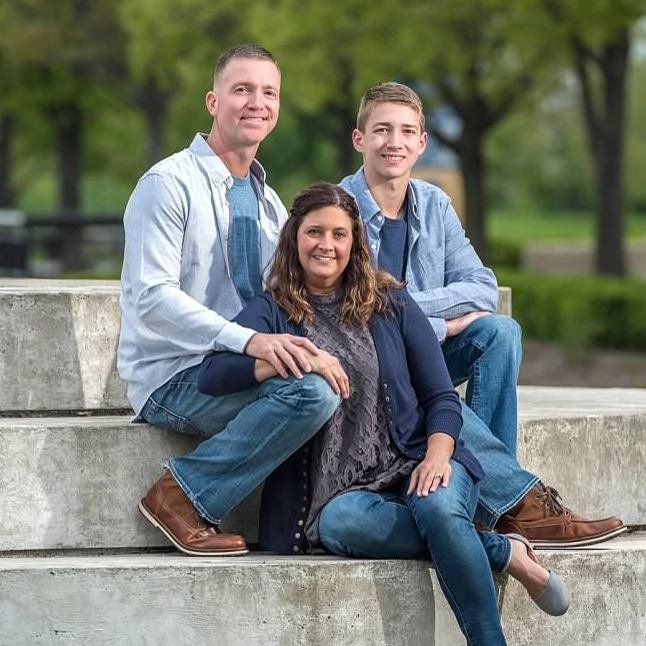 I take great pride in policing the community where I grew up.
Serving as Sheriff will be an honor that I will work daily to deserve. I believe in contributing in both personal and professional ways:
Indiana Sheriffs Association Member
ISA Training and Education Committee
ISA Legislative Committee
International Association of Chiefs of Police
Fraternal Order of Police, member of lodge 132
American Cancer Society
Men-In-Action Committee Member
Leadership Hendricks County Board Member
LHC Engagement Committee Member
Danville Rotary Corp Member
COAD, Communities Active in Disasters
ESF8, Emergency Support Function
HC Alliance for Diversity Action Team Member
HRH Emergency Preparedness Committee Member
Plainfield Kiwanis Member
As your Hendricks County Sheriff, I promise to
Lead by example,
Serve with integrity
Paid by Committee to Elect Sadler for Sheriff